Stretchable FPC
Features
Stretchable FPC(*) is available to use as a sensor to monitor vital biological signals without discomfort by conforming to the human body.
Able to apply base/trace/cover materials with high flexibility to stretch in all directions.
Material is breathable and permeable.
Uses an adhesive which is not reactive to the human body.
(*)Need to use conductive cream, hydrogel etc. against vital electrode to monitor biological signal.
Product
Product Example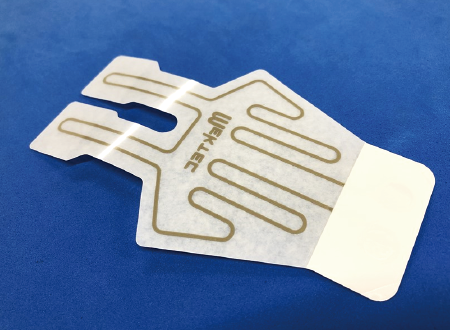 Example of Use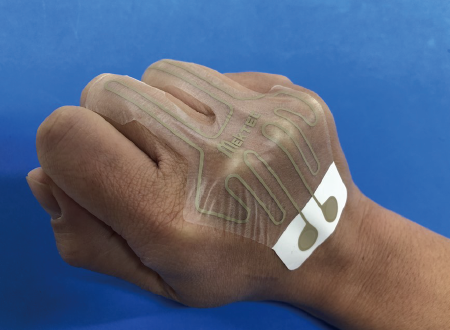 Cross Section Diagram
*Example of use vital electrode as patch-type sensor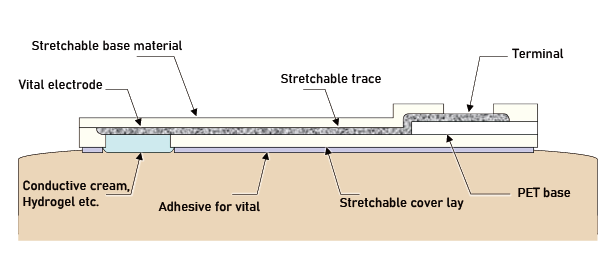 ▶ Change in Electrical Resistance When Stretching FPC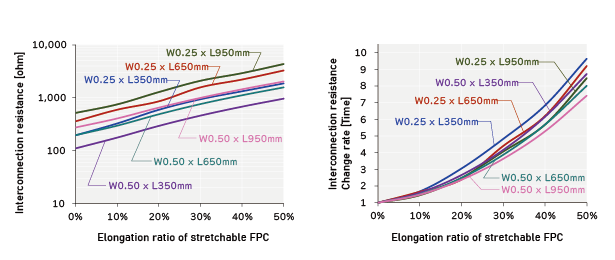 Standard Specification
Stretchable Base & Coverlay Thickness
25μm
PET Base Thickness
55μm
Stretchable Trace Thickness
20μm
Min. Trace Line/Gap
0.25mm/0.25mm
Terminal Area
Ag, Carbon
Connection
Connector,ACF,
Conductive Snap
Applications
Patch-type Vital Sign Sensor
Disposable Sensor Sheet
Measurement for
・ EEG
・ EMG
・ ECG etc.